Vendor Procurement and Management at a Startup
Well-designed vendor procurement and management processes help cut costs, set companies up for successful SOC2 audits, and mitigate future risks.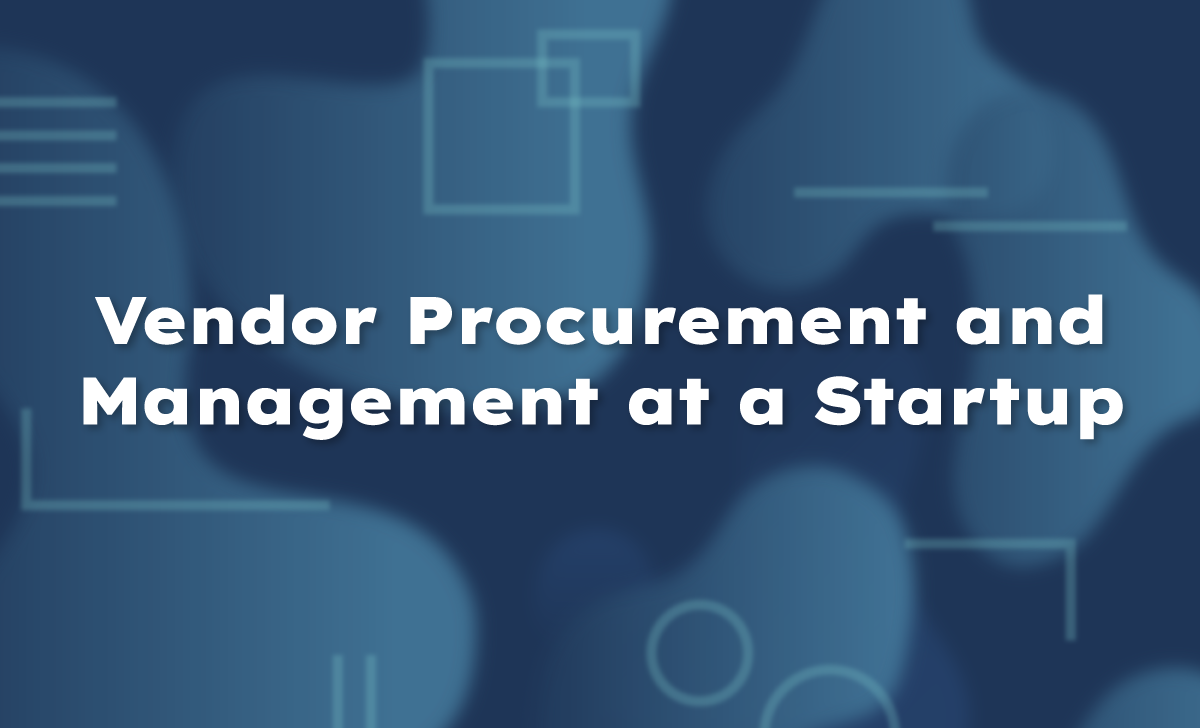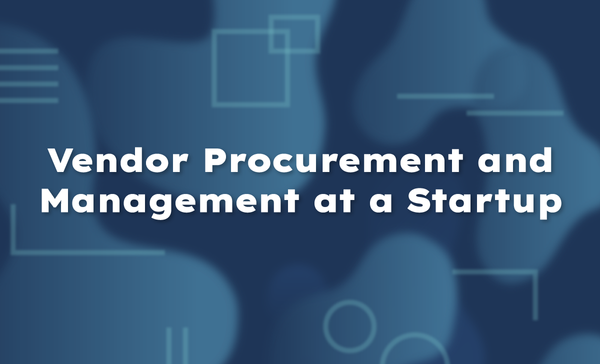 Most employees would accuse procurement departments of being overbearing bad cops, shooting down most purchase requests, and trying to find every gap in security questionnaires. Well-designed vendor procurement and management processes do companies a huge solid. They help cut costs, set companies up for successful compliance audits, and mitigate future risks.
Although you may not think your startup needs procurement or vendor management policies now, you'll be glad you established them early. Building a framework for vendor selection early on will lead to better profit margins and prevent wasted time on rip-and-replace projects. This article will cover the difference between vendor procurement and vendor management, the benefits of instituting vendor guidelines from the get-go, and some ideas for putting policies into place.
What's the difference between vendor procurement and vendor management?
Vendor procurement and vendor management go hand-in-hand, but they aren't the same thing. Vendor procurement is a method of assessing potential vendors, lowering purchase costs, and ensuring that companies enter into contracts with minimal risk. Procurement involves arranging and listening to demos, testing out proof of concepts, and entering into pricing negotiations when it comes time to buy. Procurement reads the fine print and works closely with legal teams to ensure the company is protected if anything happens to the vendor (i.e., gets hacked, goes under, etc.). When a product or service comes up for renewal, procurement is responsible for getting the most competitive continuation rate.
Vendor management is about getting the most bang for your buck. For long-term contracts, this means understanding which employees are using each product or service and whether or not their expectations are met. When the product or service is not up to snuff, vendor management works with the vendor to get reimbursed for poor service or to find ways to optimize the tool's use. Vendor management is also responsible for determining whether or not vendors are upholding security and compliance best practices and proposing potential renegotiations or cancellations based on a vendor's quality of service. Vendor procurement and vendor management processes need to be complementary to make fulfillment efficient and effective.
Benefits to proper vendor procurement and vendor management
Your organization will reach a tipping point where the ROI gained from implementing vendor procurement and management policies is worth the trouble of creating them. Here are a few reasons why you should at least think about these policies sooner rather than later:
Business continuity and risk management - Imagine if your email went down, Slack no longer worked, and Salesforce wouldn't load. That's a bad situation, but what if it got worse. What if your product is built on multiple APIs and one of them crashed? What if you hosted client data on cloud servers that were hacked? Or, what if Shopify had a bug where customers couldn't complete their purchases for several days? In each of these situations, you could lose time, tons of money, and customer trust. Procurement and vendor management processes can at least partially alleviate your worries by proactively analyzing security practices, reviewing SOC audits (if they have them), and scrutinizing SLAs.
Cost savings - After a big fundraise, it's tempting to tell employees they can buy whatever they need whenever they want to. But reckless spending won't fly past a certain number of employees and sets a bad precedent for the future. Introducing procurement and vendor management at the outset makes you frugal, buying only the products you truly need at bargain prices. Over time, you'll become a better negotiator, and you might even make friends with your vendors. If you treat them well and send referrals their way, vendors will be more likely to offer you rebates, early access to releases, and other perks. Procurement and vendor management processes also add visibility into company spending patterns, surfacing opportunities for vendor consolidation, bundling discounts, and cash flow management.
Projects professionalism - Most startups aim to IPO or get acquired by a large enterprise. And if you're like most startups, you need to pay attention to your vendors. During due diligence processes, analysts will want to know why you bought certain products, who is using them, what part of your product relies on external tools, and whether you have contingency plans if something goes awry. The same line of questioning applies if you're selling into Fortune 500 companies. Sometimes you need to prove your financial viability and dedication to security even before you schedule a demo. And it'd be a shame if you can't get past their procurement evaluation process because of your own. Consider using a service like Safebase to convey the current state of your security, compliance, and procurement practices.
Increased efficiency - Startups buy tools and services to save them time. That's why it's critical to publish guidelines for vendor evaluation and management. Picking the right vendor and finding ways to cut costs the first time around maximizes employee mindpower without sacrificing quality. Formalizing procurement and vendor management in and of itself makes your staff more productive. They don't have to guess what steps to take before signing a contract一it's standardized and easy to follow. Once processes are in use, your team will find and plug gaps, making policies more streamlined as your company expands.
Getting started with vendor procurement and management
Vendor procurement and management don't have to be arduous. The key is to start simple with these five tips:
1. Make a purchasing checklist - At a startup, no one has time to go through a million-step process, and not every purchase has to be approved by the CEO. So your purchasing checklist should outline the fastest way to get to a justifiable purchase. To start, nail down what employees can purchase on their own and from where. Create a set of preferred vendors with preferred pricing and substeps for buying hardware versus software. Next, explain how to pay. Will employees use their own card, or will you make them use a company card that gets you special billing arrangements? End with a timeline for reimbursement and steps to upload the receipt to a central repository.
2. Establish an approval process - For larger purchases, you'll need to settle on an approval process. Will employees simply ask their boss to approve a purchase, or is there a threshold where a committee evaluates the new product? For the latter, make security, compliance, and cost criteria explicit so that employees can do their research ahead of time. Teach them to ask about SLAs, customer service hours, and anything else that may affect performance or the final price.
3. Compile a list of all vendors - It's impossible to manage vendors you didn't even know you worked with, so make a list. This list can be as simple as a google sheet with the name of the product, a description, the vendor's account manager, number of internal users, and cost. In tandem, create a folder in google drive to store contracts and SOC audits.
4. Review your list regularly - Once you feel your list and folder are complete, schedule annual or bi-annual reviews. Not every product will live up to expectations, so use these sessions to let users vent about each product. Did the vendor violate any contracts? Was there poor execution on a consulting or design project? Should you cancel a contract altogether or explore alternatives before the renewal period rolls around? Even if people enjoy using a product, take a moment to examine the ROI. Are you really getting the best value possible? If not, consider reducing the number of licenses or paying for a lower-tier package.
5. Use a vendor to help - Vendor procurement and management may not naturally be in your wheelhouse, and that's ok. There are plenty of burgeoning startups that can assist. When picking procurement and/or vendor management software, make sure it comes with reporting and analytics capabilities. Not only will this help refine your processes over time, it will also help you forecast and budget more accurately.
It's Never Too Early To Establish Vendor Management Processes
Vendor procurement and vendor management usually sit on the back burner. After all, it's much more fun to think about viral marketing, product development, and hacky sales tactics. But hopefully, your company will grow faster than you anticipate, racking up expenses that make your cash burn skyrocket. Rather than paying attention to the fun stuff now and worrying about that later, think about non-disruptive ways to evaluate vendors and track their use today. Because saving money now is like starting to invest when you're 20 years old一the dividends will pay off.