Why It's Not Too Early to Think About CSR
Startups are prime candidates for CSR because as they grow, so too can their positive contributions to society. And beyond making the world a better place, CSR programs strengthen culture, lure in customers, retain talent, support public image, and attract investors.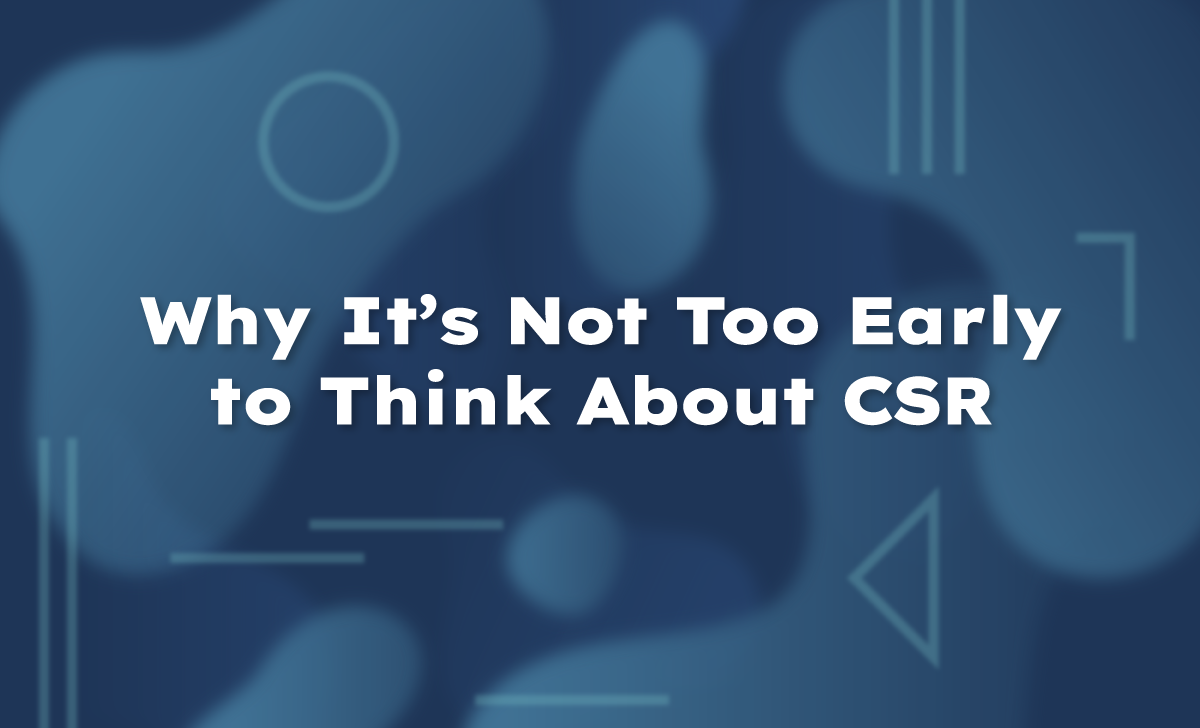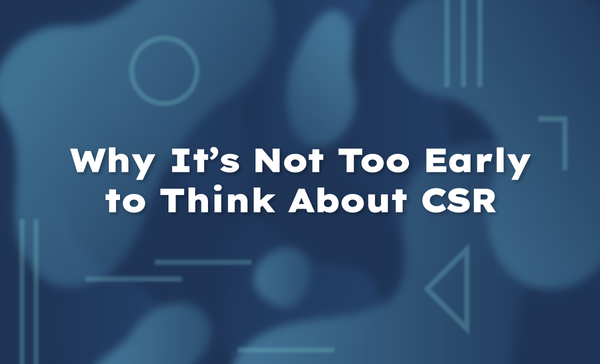 Fortune 500 companies spend $20 billion on Corporate Social Responsibility (CSR) efforts collectively, equating to 0.1% of total revenues and 1.8% of total profits. Even without the massive budgets of large organizations, startups can make an impact by adopting CSR policies. Building a vision beyond the bottom line is what separates the good from the great companies 一 CSR provides a framework for your startup to make a bigger impact.
Because of this ginormous number, a common misconception is that only rich companies can afford to make CSR a priority. But your contributions don't have to be grandiose. Your CSR program can have humble beginnings: offering employees a day off every quarter to volunteer at a community center, reducing your carbon footprint by going remote, or pledging a tiny share of proceeds to a non-profit that matches your startup's mission.
Startups are prime candidates for CSR. Because as they grow, so too can their positive contributions to society. And beyond making the world a better place一a noble effort in and of itself一CSR programs strengthen culture, lure in customers, retain talent, support public image, and attract investors. In this piece, we'll define CSR and why VCs care and discuss the many ways your startup can benefit from it.
What is CSR?
Corporate Social Responsibility (CSR), is a business framework that keeps organizations accountable for their impact on society. In other words, companies use CSR practices to minimize their negative influence on social, environmental, and economic causes一often called the "triple bottom line." There isn't one way to practice CSR, but businesses that go this route often report on their positive contributions to society and are judged on their performance by their stakeholders and the public. This pays dividends in the form of PR, recruiting, and corporate culture.
Since CSR doesn't confine companies to a particular cause, companies can choose what they want to focus on and how they choose to participate. Companies often tie the causes they support to their values. If a startup is in the activewear business, perhaps it donates a portion of its profits to a non-profit such as Play Like a Girl. If a startup is connected to restaurants, employees may volunteer at a local food bank once a month.
Probably the most woke company in terms of CSR is Ben and Jerry's. They put corporate responsibility at the center of their strategy, formally reporting on social responsibility when they had fewer than 1,000 employees. Now, CSR is simply part of the Ben and Jerry's brand. Besides speaking out against racial injustices last summer, Ben and Jerry's has partnered with the International Rescue Committee, only uses fair-trade, GMO-free ingredients in their products, and funds a dairy sustainability program near their headquarters in Vermont.
Today, Ben and Jerry's is a global brand owned by Unilever. They can afford to put money and time into these activities. So how can startups make CSR tenable? Part of the answer lies with committed investors.
Investors care about corporate social responsibility
VCs, philanthropists, and angel investors increasingly want to make a difference in the world. ESG (Environmental, Social, and Governance) investors, for instance, devoted $715 billion worth of assets in April 2020, a 42.4% increase from 2019. There are also plenty of impact-focused accelerators, including The Social Impact Accelerator (SIA) in Europe and The Social Enterprise Alliance in the United States.
Even investors who don't invest exclusively in CSR-focused companies might include social responsibility as one aspect of their thesis. They've likely seen the value CSR-led companies can bring to consumers and shareholders, and want to get in on that action early. Sincerely positioning your startup as one that cares deeply about CSR can give you access to funding you may not have known existed. And with extra capital, you can do more things for your business, your employees, and your community.
Socially responsible startups do better in the long run
There are endless benefits to incorporating CSR into your startup strategy, particularly when you have to keep it lean. Below are just a few ways CSR can help your business while helping society.
What startups are doing CSR successfully?
A quick google search will reveal there are plenty of startups adopting CSR methodology. Here are just a few we'd like to highlight:
Being genuine matters
CSR can be an all-around win for the nonprofits you serve, your customers, your employees, and your investors. But to be successful at it, you have to think about how to integrate social projects in a way that is natural and shows actual commitment. Turns out, being genuine matters一a lot. HBR found that if employees think their company is using CSR initiatives only for financial gain, they'll react negatively and put in far less effort. So remember, with CSR comes prospective investors, happy customers, a better world, and一of course一great responsibility.