The Anatomy of a Good Offsite
Company offsites can inspire, motivate, and align your teams towards shared goals and prepare them for times of high growth.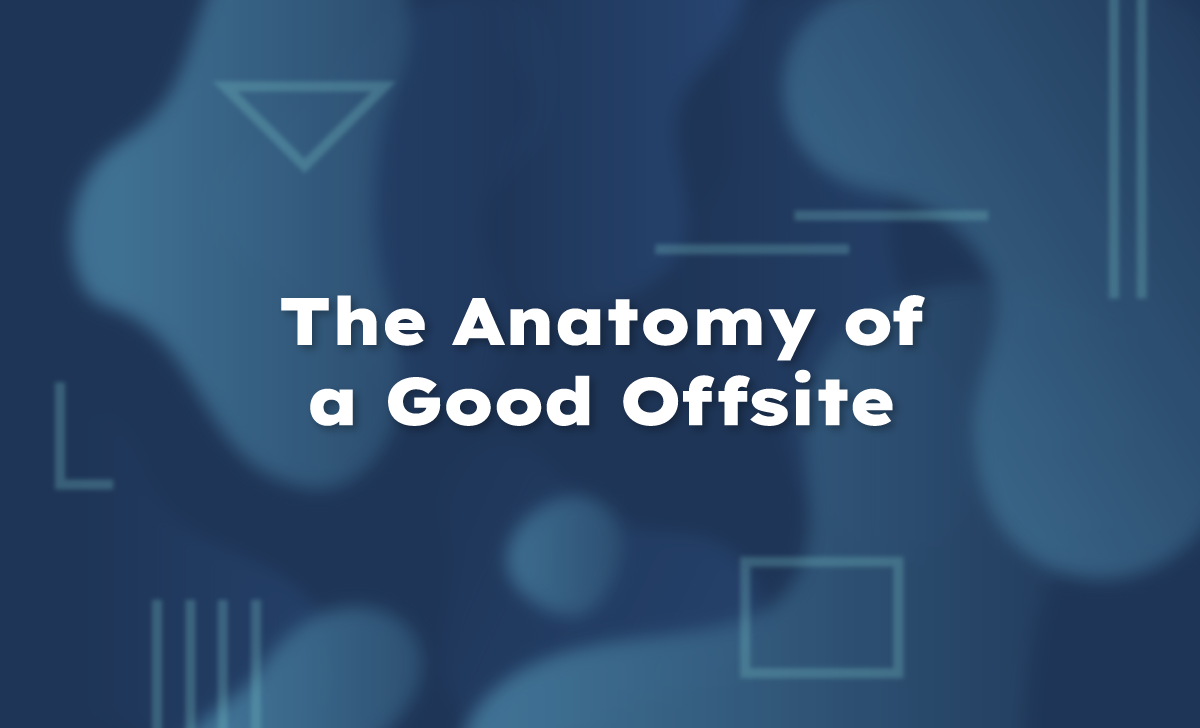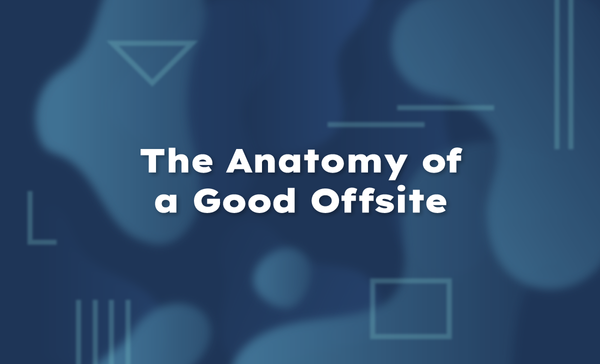 What do you think of when you hear the word "offsite"? If "snoozefest" or "waste of time" are the first words to come to mind, you're not alone. It's easy for company offsites to devolve into extra-long status meetings complete with cold coffee and mini water bottles. It's also common for offsites to swing in the other direction, a little too fun to get any work done (peep the latest WeWork documentary).
So, what qualifies as a happy medium, and is it possible to achieve? When done right, your offsite can inspire, motivate, and align your teams towards shared goals and prepare them for times of high growth. In this piece, we cover the elements of a successful offsite so you can establish a process for hosting unforgettable and productive gatherings every year.
Nail down your goals
The first, most important thing you need to do is crystallize your goals. These objectives should center around what you hope to accomplish at the offsite. Objectives can be broad since you ultimately want participants to comprehend, accept, and act on them. Offsites are costly, so it's essential to get your attendees to rally around shared objectives before you even go. Here are a few ideas to get you started:
Promote reflection on last year's performance and facilitate structured discussions around how it can be improved this year
Work together to establish critical priorities and KPIs that the entire team commits themselves to
Generate a plan for achieving strategic goals with the help of leaders from multiple teams
Build rapport among remote team members who have never met each other or rarely worked together, even in the office
Of course, when you craft your agenda, you'll want to delve into more specific topics, such as "sales strategies to hit $X in revenue by the end of next year" or "solidify the roadmap to launch X new product." But having broad objectives can help your participants feel like they can engage in more thoughtful, creative discourse and will make the offsite a team-building event as well.
Get feedback ahead of time
Not everyone will be present at the offsite, but that doesn't mean their opinions shouldn't be heard. Think about sourcing an informal SWOT (strengths, weaknesses, opportunities, and threats) analysis via a Google form. Ask department heads to send surveys to their teams a few weeks ahead of the offsite so you can share results with the group ahead of time. Of course, you may not use all the input you get, but it doesn't hurt to hear your employees out. It makes them feel good that leadership cares about what they think and gives them the chance to express themselves. If particular trends are popping up, add them to the agenda. At the very least, employee feedback will get your offsite attendees' creative juices flowing.
Set an agenda
Agendas are like OKRs一you may not like them, but you have to admit they are usually effective. First, agendas can timebox your discussions. Sometimes topics can get heated, and agendas help you end the conversation, take a break, and return to the parking lot later, keeping things moving along. Agendas also ensure that you cover everything you want to. With so many things happening, it's easy to forget about the more minor, but still important, initiatives and go home without talking about them at all. Use your SWOT results as a jumping-off point, adding in other topics leaders want to address.
Not only do agendas keep everyone on track, they also give people a chance to plan out what they are going to say. This is particularly helpful for more introverted folks on the team who want to think about their responses to big questions and brainstorm some strategies for large projects beforehand. Plus, people need downtime, and agendas can help schedule breaks as well. In addition, agendas allow you to delegate tasks, like ordering meals, designating discussion leaders, and assigning notetakers.
Send the agenda at least a week ahead of your offsite to get everyone on the same page and to give yourself ample time to make changes. You might even review the agenda with each person individually to ensure it captures what they want to get out of the meetings. Lastly, compare your agenda to your goals to ensure you hit on everything. It sounds like a lot of work up front, but the time you put into your agenda pays dividends in terms of people's participation and creativity.
Limit the number of people
Having too many people at your offsite is a recipe for disaster. Multiple viewpoints is a good thing, but not if it details the agenda. Many founders suggest a group of 5 - 10 people, starting with the executive team. From there, try to map potential attendees to your main offsite objectives and consider having diversity in terms of expertise, tenure, and role. You might have some hard decisions, but narrowing down the invite pool to the people with the most relevant input will make for better, more efficient sessions. By the way, this doesn't mean that the outcomes of the offsite should stay a secret among attendees. Set aside time at the end of the offsite to figure out the best way to disseminate the right information to the right employees.
Get out of the office
It's tempting for startups to hold offsites at their office to save money, but that's a mistake. Even the word "offsite" implies that you should be getting out of the office and into a new environment. Think about renting a short-term space, a hotel conference room, or even an Airbnb in a stunning location. It's an investment, but your employees will be excited to get away for a few days and enjoy each other's company. That said, the place you choose should limit distractions so that everyone feels productive and focused. Ensure the spot is accessible to everyone and bring materials like whiteboards, markers, sticky notes, flip charts, notepads, and pens. Something else to think about is picking a location you can return to year over year. This makes offsites feel like a fun tradition, and who knows, maybe you'll get a discount.
Talk about your people
"Talk about your people" sounds like a gossip fest, but that's not what this is about. If you're planning for the next few years, you'll need to talk about current performance, company culture, hiring strategies, preventing burnout, increasing retention, and more. Discuss feedback you may have gotten from direct reports. Do people feel recognized and rewarded? Do they feel compensated for their work? Do they want to come back to the office or stay remote? Is there any tension between teams that need to be addressed? Have attendees come prepared to talk about the individuals on their team, with identified attrition risks and individuals who are good candidates for more strategic roles. Each person should have a pathway for success一whether that be at your company or elsewhere.
Infuse some fun
Don't forget to make the offsite at least a little fun! You don't always get so much time together, so make the most of it. Depending on where your offsite is, consider ending the day with a beautiful hike, a nice dinner, a scavenger hunt, or some karaoke. Fun activities don't need to be relegated for the evenings, either. Maybe you have a chef teach everyone how to make a delicious lunch, or you make time for mini-massage breaks between sessions. Whatever you do, make sure it doesn't feel like your usual office culture. The whole point of an offsite is to stimulate people's brains, foster some team building, and get everyone jazzed about the future of your company.
Wrap up with accountability
Your offsite can't be all talk一there has to be an execution plan. End the offsite with an exercise in which everyone assigns roles and responsibilities to each new project or priority. Ask yourselves how you'll hold each other accountable, whether that's monthly or quarterly check-ins, presentations, or something else.
Be sure to compile and share notes from the closing session so that leads can review the information and disseminate pertinent sections to their teams later. These notes will also assist you if you need to present an overview of the offsite to the Board and CEO.
So that you're not leaving everything until the end, tack on 10-minutes to the end of longer sessions to recap and write down action items. Not only does this make wrapping up go faster, it also forces participants to reflect on what they learned and what they're taking away from each session.
With adequate planning, input from employees, a killer location, and fun activities, your offsite can feel completely different than a long day at work. When everyone brings their A-game, offsites are the most valuable few days of the year. Let us know if you have some offsite tips一we'd love to hear them!